At Bethel Church we think kids are AWESOME! They are such a vital part of what God is doing among us. Check out our CLASS structures below.
Our goal is to provide a safe & fun evironment for kids to learn about Jesus and make life-long friends. We offer activities during the service for FIVE different age groups:
Nursery - ages 0-2: The nursery is located right beside the coffee area in the foyer. Nursery drop off begins right before the service starts.
Mini-kids - Preschool (starting at age 3)
Jr. Kids - Kingergarten to Grade 1
Bethel Kids: Sr. Kids - Grades 2 to 5
The Mini-kids, Jr. kids and Sr. kids are dismissed to go downstairs around the morning announcements. They enjoy their own short worship experience together before each group heads off to their respective classes for games, crafts, snacks and a Bible lesson. Each child must be signed in before the service. Parents come downstairs after the last worship song to pick up their children from their classrooms.
Pre-Teens - Grade 6 to age 12: Pre-teens can enjoy their own games and lesson time during the sermon. The pastor will dismiss them after worship time to head downstairs to the Life Room. Preteens are dismissed by their teacher at the end of service.
Bethel Kids Summer 2019
This summer, our goal is to help our families and their kids stay connected throughout the summer. On Sunday, please pick up your Bethel Kids Summer Calendar magnet so you can join us for our weekly Beach Meet Ups, Family Bbq or Summer Camp. We'd love to see you there!!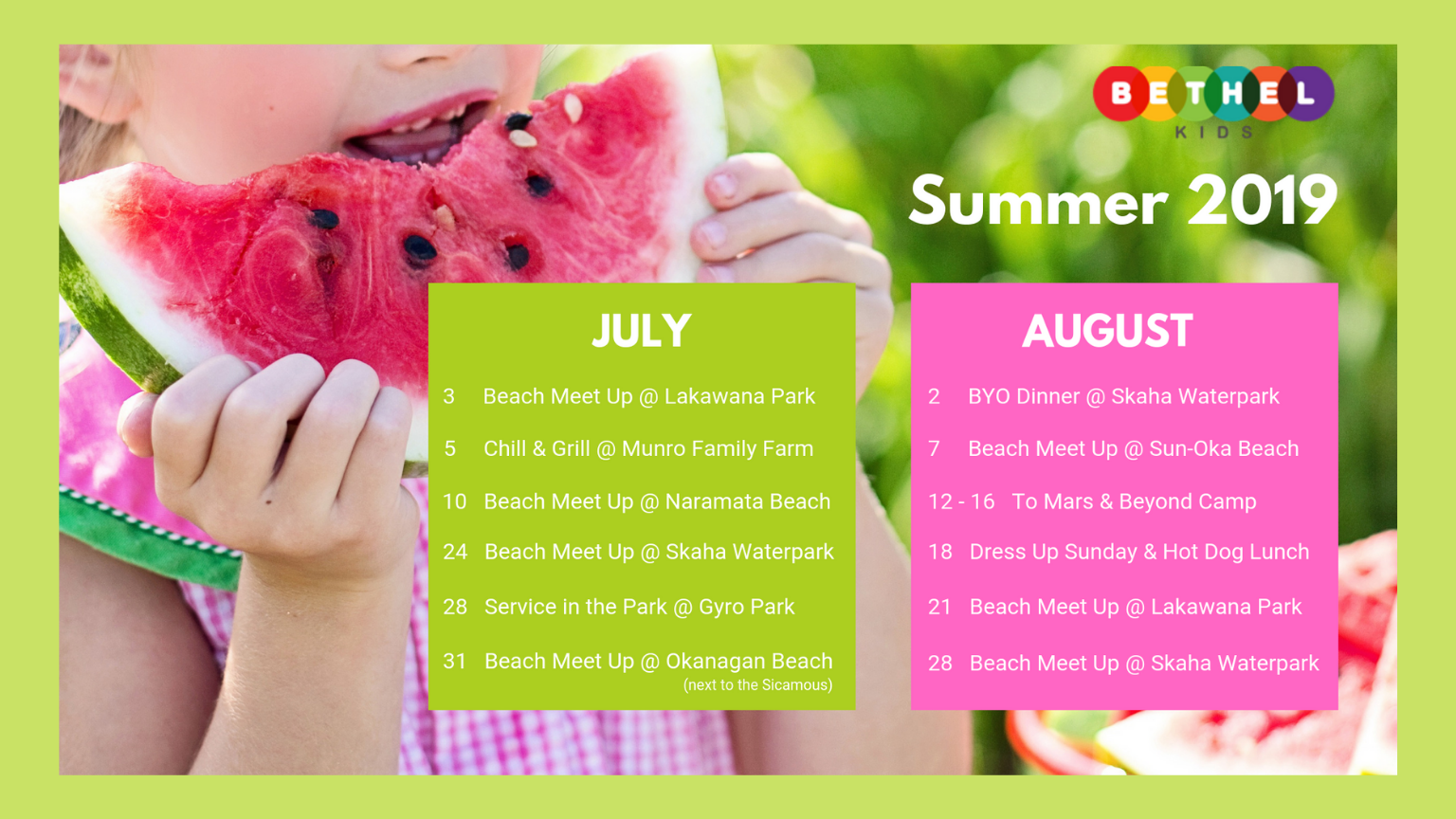 For more information contact our Children's Ministry Director, Lisa Grant at kids@betheltab.ca